Memorable Quotes on the Holy Land




Genesis 14:13

"Abr(a)ham was a Hebrew, from whom all Jews and Arabs descend"




King David, 1000BC:

"If I forget you, O Jerusalem, May my right hand forget how to play the harp."




Martin Luther, 1538, 'Against the Sabbatarians: Letter to a good friend'

"Let them go to that country and to Jerusalem, build their temple, the priesthood, and submit to the law, and raise Moses with his law so they will be Jews again and possess the land. If that would happen, they would quickly find us behind them to become Jews ourselves".

William Shakespeare (1564-1616):

"I'll make a voyage to the Holy Land"

"To wash this blood off from my guilty hand."




"They are dispersed among all nations, yet not confounded with any… After wars massacres and persecutions, they are still subsist, they are quite numerous. What supernatural power could have preserved the Jews in such a manner as no other nation on earth has been preserved? "




The king of Prussia, Frederick the Great, in a discussion with his court chaplain once said: "Give me proof of the inspiration of the Bible." The chaplain answered, "Israel, your majesty."




US President John Adams, 1797-1801 to Jefferson:

"I will insist that the Hebrews have done more to civilize man than any other nation."




US President John Quincy Adams, 1825-1829:

"I believe in the rebuilding of Judea as an independent nation."




US traveler John Lloyd Stephens in 1825 on the Temple Mount:

"Since islamic rule, Jews are not allowed near the site of the temple: they just whisper to it from afar."

from 'Peasant Life in the Holy Land' (p.99, written 1851/2, publ 1906 by CT Wilson):

"The Late Bishop Gobat on his appointment to the English Bishopric in Jerusalem in 1849 found that there were practically no schools at all for the Arabic-speaking population"."




Abraham Lincoln, in 1863, on return of the Jews to their ancient homeland:

"a noble dream and one shared by many Americans."




Mary Lincoln-Todd, in 1865, on Lincoln's death:

"He was saying there was no city he so much desired to see as Jerusalem. And with the words half spoken on his tongue, the bullet of the assassin entered the brain, and the soul of the great and good President was carried by the angels to the New Jerusalem above."




Mark Twain, in 1867, Innocents Abroad p. 361-362:

"..... A desolate country whose soil is rich enough, but is given over wholly to weeds... a silent mournful expanse.... a desolation.... we never saw a human being on the whole route.... hardly a tree or shrub anywhere. Even the olive tree and the cactus, those fast friends of a worthless soil, had almost deserted the country."

"A fast walker could go outside the walls of Jerusalem and walk entirely around the city in an hour. I do not know how else to make one understand how small it is."




Isaac Taylor, 'Words and Places', 1873:

"It is singular that the Philistines, the "strangers" from Crete", who merely occupied a narrow strip of the sea-coast, should through their contact with the western world, have given their name to the whole of the land of Palestine, in which they never succeeded in gaining any lasting supremacy."




Author Ludwig Schneller, born in Jerusalem and raised in Bethlehem, 1889 (Chapter on Bethlehem', Book: 'Kent Gij het Land?', 'Kennst du das Land?', KGhL p22):

"Until recently the surrounding lands were void and desolate. All labor appeared fruitless. Only remnants of cultivation of terraces near the foot of the mountains showed evidence of ancient Israelite thrift."




Ludwig Schneller, 1889 (Chapter on 'Land and Money', KGhL p66):

"The curse on this land Palestine is not only on account of the (Arab) population, but its (Turkish) government that takes from its subjects, and allows itself to be bribed"




Ludwig Schneller 1889 (Chapter on 'Land and Money', KGhL, p68:

"One can put the blame squarely on the Turkish government which has allowed the destruction of the forests in Palestine by allowing the removal of firewood and the grazing of young saplings"




Ludwig Schneller, 1889 (Chapter on 'Land and Money', KGhL p79):

"Moses gives the law to Israelites that plowing animals should not be unequally yoked. Yet Arab farmers in Palestine will gladly yoke a horse to a donkey, or a camel to a cow. This author has personally witnessed a donkey being yoked together with the farmer's wife."




Ludwig Schneller, 1889 (Chapter on 'Marriages'), KGhL p114:

"Polygamy leads to poverty, domestic discord and smaller families. Arab girls marry young, as young as 8 or 9 years old. She has no say, she goes to the highest bidder, and always to a relative."




Ludwig Schneller 1889 (Chapter on 'Bethlehem'), KGhL p21:

"There are 7000 inhabitants in Bethlehem (in 1889), with only several hundred Mohammedans."




Ludwig Schneller, 1889 (Chapter on 'Bethlehem', KGhL p21:

"Yet here in Bethlehem (with all the reminders of Christ's past presence), I experienced in the desperate conditons of this poor land something like the voice of the voice of an angel, saying: "He is no longer here"




Author Hans Habe quotes the British High Commissioner for Palestine saying in 1923 on the extremely fertile valley of Jezreel (p165)

"The land of Esdraelon was uninhabitable, not a house or a tree."




Teddy Roosevelt, ardent Zionist, in 1918, on return of the Jews to their ancient homeland:

"It seems to me that it is entirely proper to start a Zionist state around Jerusalem,' for peace would only happen if Jews were given Palestine."




President Woodrow Wilson, in 1918, on return of the Jews to their ancient homeland:

"The allied nations with the fullest concurrence of our government and people are agreed that in Palestine shall be laid the foundations of a Jewish Commonwealth."




Chaim Weizmann (then a scientist) in 1921, while traveling by boat to the US to raise funds for the Hebrew University:

"Einstein explained his theory (of relativity) to me every day, and on my arrival i was fully convinced that he understood it."




Albert Einstein, in 1921, on the Zionist ideal of a homeland:

"Zionism indeed represents a new Jewish ideal that can restore to the Jewish people the joy in their existence."




Future first President of Israel, Chaim Weizmann, in 1921s:

"We look forward to a future where Jews and Arabs will live shoulder to shoulder in Palestine, and work together towards the welfare of the nation"




"After violent unrest by Arabs, the British Peel Commission offered in a partition plan 80% of Palestine to the Arabs,and 20% to the Jews. The Jews accepted, the Arabs did not."




"550,000 Jewish soldiers fought with the US forces against the fascists in World War 2, of whom over 10,000 were killed in action. Another 500,000 fought for the Soviet Union, of whom 120,000 died in combat and 80,000 were killed by the Germans as POWs, 100,000 fought for Poland, of whom 30,000 fell, 30,000 fought for Britain, and many other nations."




on the Arabs during WW2:

" During World War 2, the Arabs and Turks were aligned with the fascists powers: the Muslim Mufti of Jerusalem, Amin al-Husseini, spent the war in Berlin, and afterwards sought refuge in Egypt to avoid prosecution for war crimes."




IsraelToday: On land ownership in Palestine under the Ottomans (1517-1917):

There was no land ownership under the Ottomans before 1858, only after this time land registration became possible. Just half the lands of Palestine were considered arable by them ('Miri' = cultivated, land which could be rented for 10% of the harvest), but went mostly unused (or 'Mawat' = fallow).


1948_Landownership_Ottoman_Palestine_and_Israel.tif

On land ownership in Palestine under the British (1917 - 1947)

" When the British inherited this system in 1918 (chaotic and corrupt, to avoid payment of taxes), there were few documents except those of Arabs who had registered and of Jewish purchases from Arabs (often at very high prices). The British maintained the status quo".




On land ownership under Israel (after 1948)

In 1948, 15% of the land of Palestine was owned by Jews, 20% by Arabs, Druze and Christians (such as religious institutions aka 'Mulk-land'). The cultivated 'Miri' lands that were not owned by Arabs and who left in 1948 (so now unrented, unowned, uncultivated, fallow 'Mawat' lands) were nationalised in 1948.




President Truman on May 14, 1948, the first to recognize Israel's independence after the UN vote:

"The United States recognizes the provisional government as the de facto authority of the new State of Israel."

"I believe it has a glorious future before it - not just another sovereign nation, but as an embodiment of the great ideals of our civilization."




the London 'Economist' 02 Oct,1948:

"Jewish Agencies published an appeal for Arabs to stay in Haifa. They promised safety and immunity, but of the 62,000 not more than 4 or 5 thousand remained"




Hans Habe, 'In King David's Footsteps', 1970s (p135)

"Only after the partition plan (Balfour, 1920s), did many Arabs come in from Jordan, so not refugees, but immigrants, looking for economic chances in Jewish agricultural enterprises"




Hans Habe (p169)

"Arabs like to believe in a united Arab fatherland. In 1948, many Arabs left Israel to return home. After the Arab war of annihilation against foundling Israel, only 157,000 Arabs remained in Israel. Of those who left, while they may have lost their dwellings in Israel, the Arabs stole their fatherland."




Hans Habe

"Does the 'right of return' mean, that all stolen goods and possessions of expelled Jews from Arab lands in 1948 will be restored?"




"Until the 1940's, like Palestine itself, no independent Arab nations surrounding Palestine had existed for centuries or even thousands of years, if ever."




Jewish Owned 'Palestine Post' (later the 'Jerusalem Post'):

"Before 1948, the designation 'Palestinian' applied exclusively to the many Jews of Palestine."




Hans Habe (p167)

"At the same time of the flight of the Arabs out of Israel in 1948, the Jewish exodus from Arab lands started: 235,000 escaped from Morocco, 124,000 from Iraq, 46,000 from Yemen, 43,000 from Tunisia, 37,000 from Egypt, 32,000 from Libya, 12,000 from Algiers, and 8,000 from what is now Syria"




Hans Habe (p170+)

"The UN Organisation's UNWRA recognized 536K refugees from Palestine in 1948. In 1966 this number had grown on paper to 1.35 million, at an assumed birthrate of 5% when in fact the Arab population had been stagnant at 600,000 in Palestine for 400 years under the Ottoman Turks."




Hans Habe on UN alchemy, 1948 and on (p170)

"The United Nation Organisation UNWRA (12,000 employees then) created the 'Palestinian' from a test tube: an Arab who had resided 2 years in Palestine was declared a 'Palestinian'."




On Palestine partition plans:

"Three times the Arabs were offered a partition plan with their own state: the 1917 Balfour declaration (which still included present-day Jordan), the 1937 Peel plan (with only 17% of the land going to the Jews, with a maximum population limit of 500K Jews), and in 1947 during the United Nations nationhood vote for Israel. Three times the Arabs rejected a Palestinian state."




Obama administration State Dep't study:

"During a recent study in 2015, it found that only 20,000 Palestinian refugees remained alive of the claimed 700,000 who fled in 1948 (note that the UN claims there are 5.1 million)"




Prime Minister David Ben Gurion, 1950s:

"If an expert says it can't be done, get another expert."

"To be a realist, you have to believe in miracles."

"We can defeat the Arabs a hundred times, and still have the same problem. They only need to defeat us once, and we are done for."




Pres candidate John F Kennedy, 1959:

""Let us make it clear that we will never turn our backs on our steadfast friends in Israel, whose adherence to the democratic way must be admired by all friends of freedom."




President Dwight Eisenhower, 1957 on return of the Jews to their ancient homeland:

""Our forces saved the remnant of the Jewish people of Europe for a new life and a new hope in the reborn land of Israel. Along with all men of good will, I salute the young state and wish it well."

"The health of our society depends upon a deep and abiding respect for the basic commandments of the God of Israel."




Mosje Dayan, in 'Story of my life' on land purchases in the 1930s:

"we purchased the land from Arabs - often at very inflated prices - and set up Jewish villages where there had once been Arab villages"

Mosje Dayan

"After a cabinet decision, the Israeli government announced that all refugees who went to Jordan, Lebanon, and Kuwait, and who wished to return would be allowed to do so up to August 10, 1067. But very few did. They had to go through the Jordanian government, who held them up and placed obstacles in their way"

Mosje Dayan

"Masada shall not fall again" (Mosje Dayan instituted this swearing in ceremony for the Armoured Corps soldiers atop Mt Massada


Title of Ephraim Kishon's book 1967:

"So sorry we won"




Golda Meir:

"We cannot lose because we have a secret weapon: we have no alternative"




Author Hans Habe, 'In King David's Footsteps', 1970s:

"The Arabs never objected to 400 years of Ottoman occupation, the only ones to protest were the Jews of Palestine" (p134)




p62

"The failed Kolchoz was a product of communist society, the successful Kibbutz created the Jewish state."




"In 1967, after two decades of Jordanian occupation, only 10% of Arabs on the Westbank had access to running water (but in 1970: 76 ltr/d per person). At the same time (1967), Israel's water reserves efficiency usage was 90%, the highest in the world." (p63)




p215

"Why don't the Arabs want our hospitals and street lights? Because it means we are here to stay."




Golda Meir, 'My Life', 1970s:

"We can forgive the Arabs for killing our children. We cannot forgive them for forcing us to kill their children. We will only have peace with the Arabs when they love their children more than they hate ours."




Abba Eban, 16 Dec 1970s:

"If Algeria introduced a resolution declaring that the earth was flat and that Israel had flattened it, it would pass by a vote of 164 to 13 with 26 abstentions."




Author Efraim Kishon:

"Israel is a country surrounded on all side by enemies, but the people's headaches are caused by the neighbors upstairs"




Cabinet Minister Naftali Bennett:

"Never again will Jews not have a country to go to when persecuted"




Arabic gilt-edged poster of Adolf Hitler in a UN relief organisation building in Beirut in 1982 (as seen by Lance Lambert)

"We will finish what Adolf Hitler started"




President Ronald Reagan, 1987:

"For the people of Israel and America are historic partners in the global quest for human dignity and freedom. We will always remain at each other's side."




Wiesje de Lange

"Relentless persecution explains the enormous difference in numbers between two 5000-year old cultures of the Chinese and the Hebrews"




A reporter:

"What might be the anatomical significance of thousands of praying muslims turning their rear ends to the location of God's Holy Temple?"




Spanish Journalist Sebastian Villar Rodriguez,' Europe died in Auschwitz', 2008:

"We killed six million Jews and replaced them with 20 million Muslims. In Auschwitz we burned a culture, thought, creativity, talent. We destroyed the chosen people, truly chosen, because they produced great and wonderful people who changed the world (129 Nobel Prize winners). We replaced science, art, international trade, and above all, the conscience of the world, with stupidity and ignorance, religious extremism and lack of tolerance, crime and poverty (7 Nobel Prize winners among whom Egyptian-born Yasser Arafat)."




"Incarceration of a palestinian terrorist for 3 years fetches him $400 per month salary, three to five years: $560/month. Sentences up to 15 years: $1690/month, and up to 20years: $2000/month, all funded by the European Union."




The PA, 2018

"The Palestinian Authority paid terrorists and their families over $347 million last year, according to its own records"




Benjamin Netanyahu:

"If the Arabs put down their weapons today, there would be no more violence. If the Jews put down their weapons today, there would be no more Israel."




On Jerusalem:

"I have set watchmen upon thy walls, O Jerusalem" (Isaiah 62:6)




"Jerusalem is the city of the Great King" (Matt5:38)




"There are over 800 references to the city of Jerusalem in the Bible, not one in the Koran"




President Donald Trump, 2017:

"Today we finally acknowledge the obvious: that Jerusalem is Israel's capital. This is nothing more or less than a recognition of reality. It is also the right thing to do. It's something that has to be done."




Even the Qur'an recognizes Israel as for the Jews:

"And thereafter We [Allah] said to the Children of Israel: 'Dwell securely in the Promised Land. And when the last warning will come to pass, we will gather you together in a mingled crowd.'" [Qur'an 17:104]"




the Apostle Paul, in Romans 11:26-27:

"And so all Israel shall be saved: as it is written, There shall come out of Sion the Deliverer, and shall turn away ungodliness from Jacob: For this is my covenant unto them, when I shall take away their sins"




Some Middle-East History:
Youtube: Hatikvah, de hoop van 2000 jaar / Hope of 2000 years (Sheetmusic here)
Josephus' timeline and description of the destruction of Jerusalem 70AD - 'not one stone left on another'
Emperor Vespasian's building of Rome's coloseum using Jewish slaves
40 maps of Middle East history
'Lands of the Bible' by Dr Wilson (1852), p.231-274
on Samaritans
'Nabloos (= Neapolis / Shechem) and the Samaritans (in 1861)' by Sir George Grove (p. 241-258)
'Fragments of a Samaritan Turgum', by John W. Nutt (1874, note: slightly tedious)
on the name 'Palestine'
And did those feet, in ancient times, walk upon Palestine's mountain greens?
Jewish land purchases in pre-1947 Palestine
100 years after Balfour (Stephen Bayme on YouTube, very good)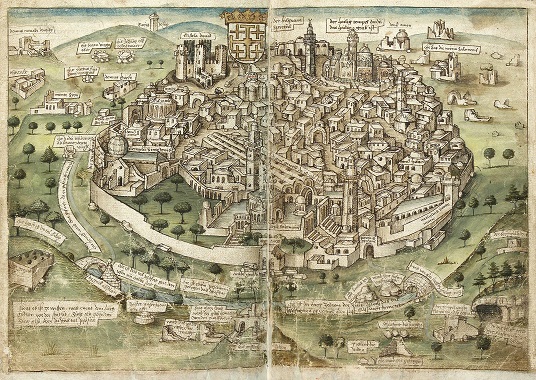 Jerusalem in 1486 by Konrad von Grunenberg




2000 years of Muslim and Catholics Persecution of Jews:
Wikipedia: Timeline of several millennia of persecutions of Jews

the Wikipedia list of persecutions in Excel, with Filter/Sort codes on location & type of persecution:
country
city
killing
misappropriation
forced exile
religious decrees
libel
(to sort: pls remove checked 'blanks' in top Cell per selection to select specific 'events' above)
Some examples of relentless persecution from 'rational and enlightened' Europe:
1021AD: A violent earthquake occurs, which some Greeks maintain is caused by a desecration of Jesus by the Jews. For this a number of Roman Jews are burnt at the stake
1349AD: Zurich: 600 Jews are burned at the stake and the entire Jewish community of Zurich is annihilated as a part of the Black Death Jewish persecutions.
1365AD:Jews of Lorraine are expelled after their presence is cited as the cause of lightning strikes which destroyed twenty-two houses.
Where the pointy KKK hats came from (Sanbenitos were used to persucute Jews in catholic Spain)
War Victims: interviews and survival stories in Dutch with Coenraad Rood, concentration camp prisoner of WW2 (English subtitles)
War Victims: interview in English with Coenraad Rood, concentration camp survivor of WW2 (in English)